World of Motorsport Barbados
There are a variety of Motorsports that are found in Barbados. These include autocross, circuit and drag racing, drifting, karting, Mud Dogs or navigational rally, Rally and Rallycross.
What is Rally racing?
Rally Racing involves cars travelling on a course that may be either a public or private road. There are two types of rally racing - rallycross and rally.
Rally racing has one car at a time travelling on a public road closed for racing. The closed road is called a stage. There will be a series of stages in an event. Each stage is timed and the co-drivers or navigators of the car ride in the passenger seat. They inform the driver of what is on the road ahead and how to position the car influencing his or her ability to drive safely and quickly. Each stage should be completed in the quickest time possible. Once the stage is completed, they drive on public streets to the next stage, and complete the course again. Rally racing is considered an endurance event as the stages can be long and multiple stages may make it a long day.

Rallycross involves multiple cars running together on a closed course specifically designed for racing. It is a close contact sport. The races can be on varied surfaces such as gravel, mud or a paved track. A change in surface can affect the setup of the car. The winner is the first car to cross the finish line.
Rally and rallycross cars are similar and can use the same parts. Rally cars are designed to be as close to your standard street car. Rallycross cars are modified to boost performance. They do not have to be street legal.
To compete in Rally racing or rallycross drivers have to be experienced and trained in different types of events. The winner is the one with the most skill, determination and endurance.
Some well known rally racing drivers in Barbados are Roger and Dane Skeete, Roger and Barry Mayers, Justin Campbell, Andrew Jones and Ian Warren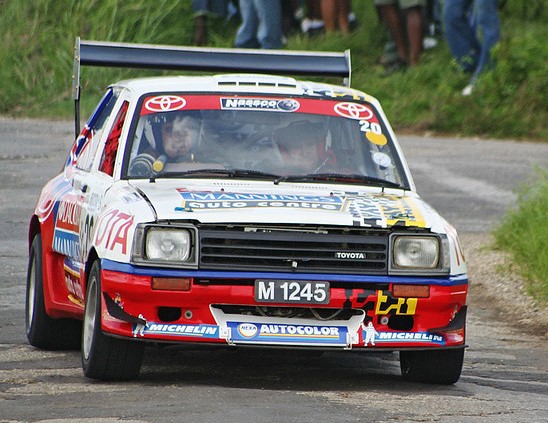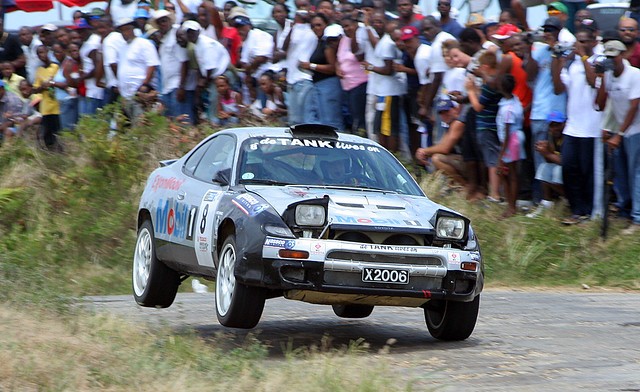 Karting
Kart racing or karting is a form of motorsport that uses go-karts. Karts vary in speed and some can reach more than 260km'/hr. Recreational go-karts are slower. Karting events are held at Bushy Park.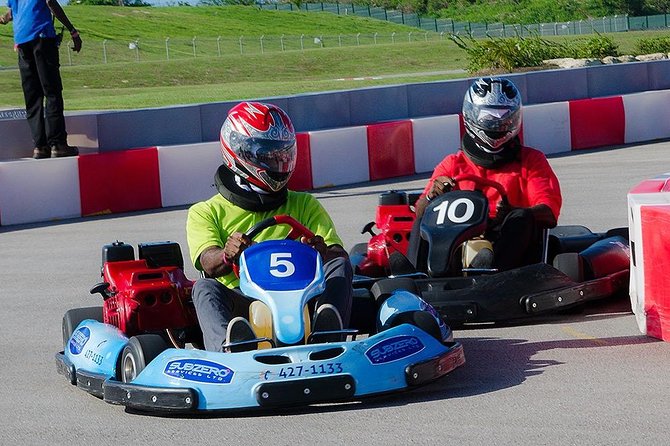 Karting Q & A
How is a go-kart class determined? By simply motor, or chassis and motor? I think I read on the website that it's motor, weight, and tyre size. Is this true?


Class is usually age and engine or engine type, and imposes a minimum post-race weight.
How frequently do you go through tyres and fuel? I heard very competitive drivers change tyres every race.
2Stroke and 4Stroke racing is whereby the go-karts use the same engine as those found in sports motorcycles. In 2stroke racing, like Rotax, it is very common to need new tyres every racing day, if you get good and the field is not too crazy (maybe at your club races) you could race on older tyres. In 4stroke classes very often you could get several races or even a whole season on a single set of tyres, depending on the manufacturer. The manufacturer will often be set by the club or the tour. Very few places are "open spec tyre."
Does the chassis really matter in the scheme of how quick you can be? If you have a US $2000 chassis compared to a US $3000 chassis and you're a better driver than the person with the 3k chassis, will the more expensive kart win simply because it's a higher quality?
The chassis matters to some extent, and how you tune it matters a lot. If you have a good tuner (or are one) you can get by with a cheaper chassis. Personally I would not worry about an expensive chassis your first year. You probably have a lot of other stuff to buy like tools, a spare engine, a trailer, maybe a pickup truck ;-
How frequently does a kart require maintenance? What does that entail?
First of all, remember that there is planned maintenance and there are incidentals like when you barely brush up against the tyres and bend the rear axle or a tie rod. For planned maintenance, you should get your master cylinder and calipers rebuilt by a pro every year at least. You will need new brake pads and a new rotor as soon as the old one shows any cracks. Some maintenance is required every time the kart is used such as applying a chain lubricant every time you go out, and general cleanliness especially around the chain. You will have to replace safety clips every now and then; sometimes they just vanish on track.
Mud Dogs
Mud Dogs is an off-road event using either four wheel drives or trucks. The events are held in Barbados are called Safari Championships and are organised by the Barbados Rally Club (BRC). There are 2 or 3 events in a year. The sport has become quite popular and anyone with a four-wheel drive pickup or jeep can participate. They are considered to be navigational events as the co-driver directs the route around the course based on instructions.
See below websites for video, pictures and more information.
Drag Racing & Drifting
Drag Racing
Drag racing involves two cars or motorcycles at a time competing to see who will cross the finish line first. Drag racing is held at the Bushy Park circuit over 1/8 of a mile and acceleration tests of 1/4 of a mile are done at the Paragon military base. Events are coordinated by the Barbados Association of Dragsters and Drifters.
Drifting
Drifting is a driving technique when the driver intentionally oversteers to create a loss of traction whilte maintaining control and driving the car through a corner. Drifting competitions began in Japan in the 1970s and spread worldwide. Competitions are judged according to speed, angle and showmanship.
See below for more information
Autocross
Autocross is a timed competition in which drivers navigate one at a time through a defined course on either a sealed or unsealed surface. Autocross differs from road racing in that there is only one car on the track, driving against the clock. Autocross courses are either 1km or 2km long. It demands driver skill.
Autocross Facebook