Professional Drivers
Roger Mayers
Roger has been a racing driver for over 20 years with lots of experience under his belt. In the early 90s he drove a Toyota Starlet for rally driving and a Ford vehicle for circuit racing. His first event that he took part in involved a nightly rally stage at Kendal corner driving quickly. His favourite stage is from Haggatts to Springvale.
He started out in go-karting from 11 — 15 years of age and was able to win 3 championship events. He got a lot of experience through go-karting. Once he got his driving license, he moved into rally events. In his first race he came second overall. He has driven a Toyota Startlet (rally events), Ford Escort Cosworth and Ford Focus. His favourite car for rallying is the Ford Cosworth and an Austin or Rover Metro.
He prefers tarmac tracks rather than off circuit or gravel tracks because of the influence of go-karting in his early career. He is also faster on tarmac tracks to gravel tracks. He used a Ford Focus for circuit track racing. Roger was able to participate in rally events in the United Kingdom, whilst he was there studying mechanical engineering and in Trinidad. He drove a Metro for rally events whilst overseas.
The Ford Focus was one of the cars he used for circuit racing. He has stepped away recently from circuit racing because of the frequent number of collisions that may occur causing with lots of damage. As he builds and fixes his own car, doing all of the mechanical work, he knows how much work is required to repair cars for circuit racing. He has identified that there are no real reprimands from officials when serious damage occurs to cars and this made him reconsider taking part in future circuit racing events.
He likes to compete in track racing, time attack and drag racing rather than lots of circuit racing because of numerous accidents involved with circuit racing. He enjoys rally racing to circuit track racing, because of the adrenaline rush and the precision needed for rally stages. He recognises that his brother Barry is a more consistent driver at rally events. He came 5th in the 2019 Flow King of The Hill competition. Roger and his brother Barry did not finish the Sol Rally 2019 because of a broken cam belt. The duo comprise the M & M racing team. Outside of motorsport he sells clothes for a living.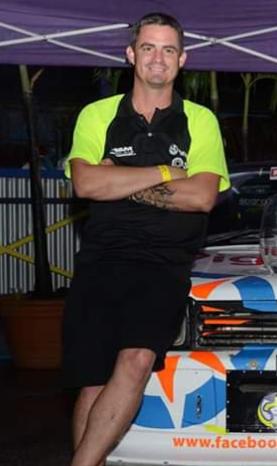 Rhett Watson
Rhett's nickname is Ratanen after the Finish racing driver Matti Rantanen. He has been around motorsport from a young age as his dad competed in track, drag and rally racing events from the 70s to the 90s. He has a brother Logan who is also a racing driver. They make up the team Watson racing. Many racing cars were built or prepared in a workshop close to their house as their dad was a mechanic.
They lived from a young age on a plantation and had the opportunity to use go-karts on their land and on kart roads as teenagers. They then moved onto using cars and developing short courses on kart roads. Rhett competed in his first Rally Barbados (Texaco All Stage Rally) in 2003. Rhett worked at McEnearney and was able to use their garage space to build rally cars. He enjoys building and preparing cars.
The Watson racing team has been competing in rally events for the past 16 years. Rhett was a co-driver for Cliff Roet for 3 years and occasionally with Roger Mayers and Ian Warren. He participated in the Race of Champions and came third overall in the cup of nations in 2014. He won the Caribbean Cup at the Race of Champions weekend. He won the Barbados Rally Club (BRC) Drivers Championship in 2014 and 2015.
He is good at dexterity events. He drives a BMW M3. For the Race of Champions event he was able to drive an Audi rally car and says he enjoyed racing that car above all others he has driven. He came 7th at the Flow King of The Hill competition 2019. He is a qualified chef, after studying professionally in Canada. He loves experimenting in the kitchen for family and friends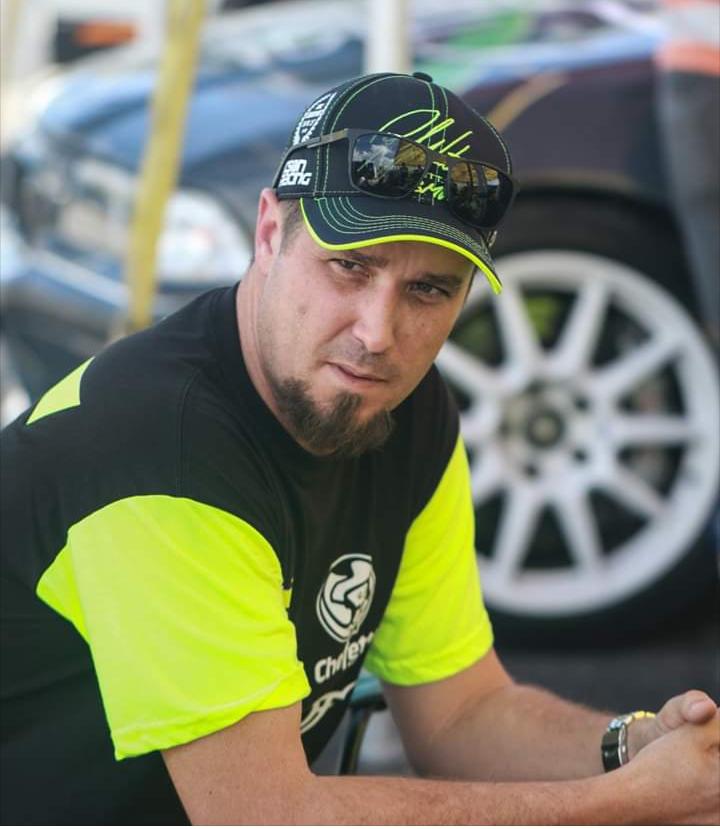 Roger Skeete
Roger started out in motorsport in 1979 helping to prepare a Mini Cooper S for racing with Mark Stoute. His first victory in an event occurred at Mount Wilton, St. Thomas in 1980. He is known as The Sheriff because he drove with the Texaco star logo on the bonnet of his car.
He had a terrible crash in a Ford Escort in 2004 at Three Houses, St. Philip. Roger has won the Sol Rally Barbados 13 times of its 29-year history. A number of these events were Barbados Rally Club (BRC) blue riband from 1990 to 2004. His partner during this time was Dave Crawford as co-driver and engineer. Since 2010 his new co-driver has been Louis Venezia. He has a son, Dane Skeete, who was once a go-karting driver.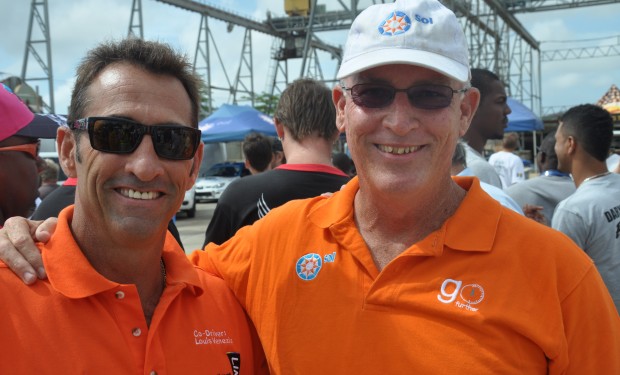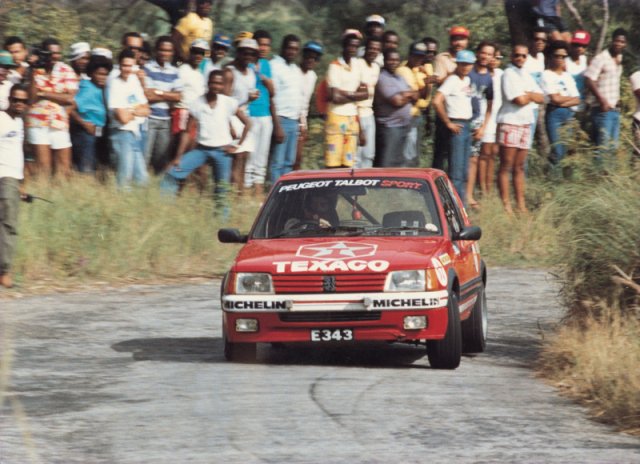 Dane Skeete
Dane Skeete is the son of Roger Skeete. He participated in the 2014 Race of Champions. Dane Skeete came 1st in Sol Rally Barbados and 3rd in the Flow King of The Hill 2019. His co-driver is Tyler Mayhew. This year was Dane's debut at Sol Rally Barbados. He won in a Subaru Impreza. He won the HO2 Construction (a construction company from Turks and Caicos) Winter Rally in the 10 stage 41 km event.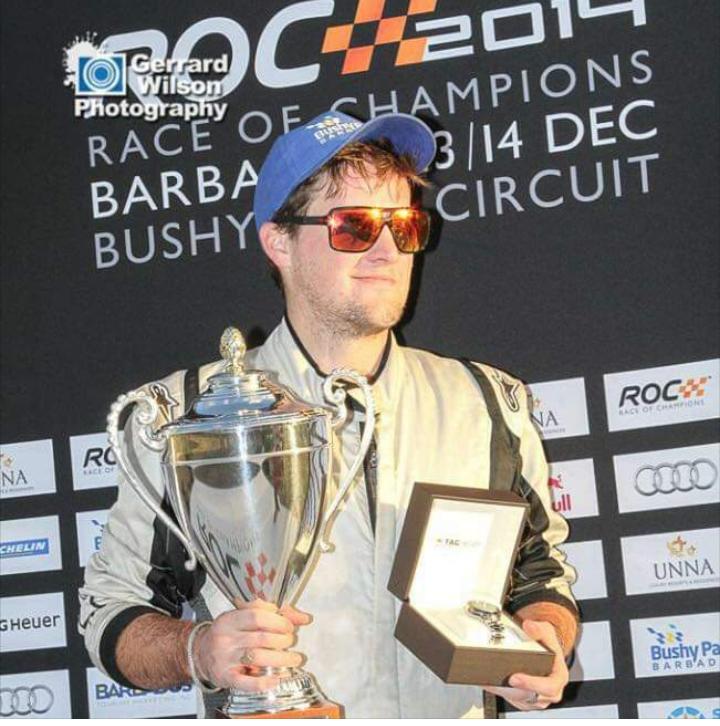 Zane Maloney
Zane has been using go-karts from 3 years old — he was so small the track suit was too big for him! He has done great things in go-karting recently. He was a go-karting champion for Barbados in 2012 and 2013. In 2015 and 2016 he participated in karting events in Daytona, Florida. From there he moved onto Europe and participated in karting events. He has been participating in a number of junior karting events in the UK and placed above 5th in a few events in 2018. He joined the British Racing Drivers Club (BRDC) Rising Star Scheme. This scheme highlights talented young drivers under 24 that want to pursue a professional career in motorsport.
In October sixteen year-old Maloney won the British F4 Championship for the Carlin Team by winning 10 of the 30 races. He won the competition with seven races to spare. Jenson Button, Lando Norris, and the late Brazilian Ayrton Senna are some of the Formula 1 Drivers who have won the F4 Championship title. The Carlin Team, that he races for, is a top tier motorsport organisation based in the UK. Its drivers compete in different motorsport events such as FIA Formula 2 and 3, the F4 British Championship, LeMans and the IndyCar series.
Throughout 2019 he has raced at Brands Hatch in England, Knockhill in Scotland, Snetterton and at the FIA World Motorsport Games in Italy. He competes in roughly 25 overseas events a year, mainly in Europe. He is studying at Lockerbie College and currently completes a lot of his coursework online.
Zane has a younger brother Caleb, who competes in go-karting. His grandfather, father and uncles have all been involved in motorsport. Keep a watchful eye on him I am sure he will have a fantastic 2020! His sponsors have Sol, Rock Hard Cement, Bushy Park Barbados and Alpinestars. Zane attended the FIA Prize-Giving Awards on 6th December in Paris.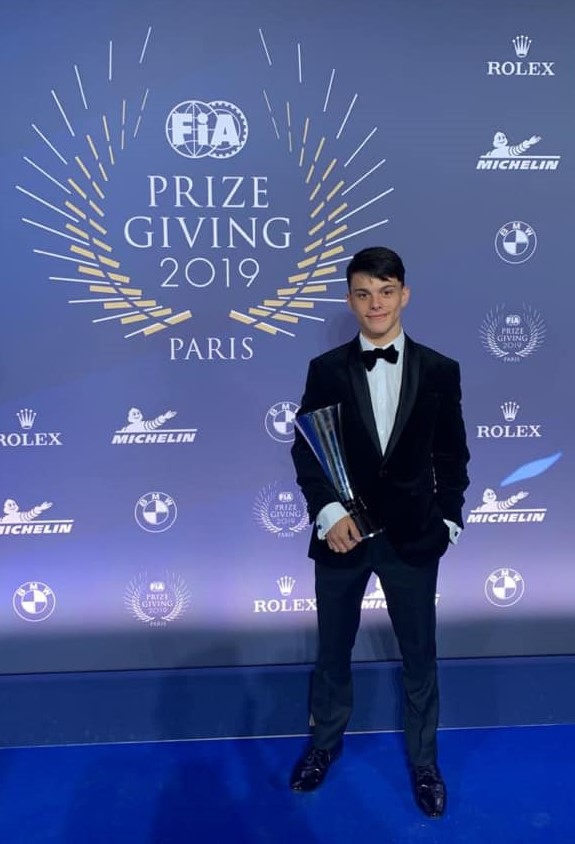 Lewis Hamilton
British racing driver Lewis Hamilton won his 6th Formula 1 Championship title in Austin, Texas on the 3rd Nov. Although Lewis did not win the race, he came second to Valteri Bottas his Mercedes teammate. He surpassed the late Argentinian Juan Manuel Fangio's record of 5 titles and is just behind Michael Schumacher out front with 7. The 2019 F1 season finished on the 1st of December with Hamilton winning 11 of the 21 races. He put in a well-deserved effort and has shown how strong the Mercedes team, engineers and analysts are along with his impeccable driving skills. Lewis received his championship accolade on the 6th December, at the FIA Prize-Giving at the Carrousel du Louvre in Paris. If he continues to perform like this, there could be many more years ahead for Lewis in Formula 1.
Hamilton started from humble beginnings living on a council estate in Stevenage, Hertfordshire. He started in go-karting in 1993 at the age of eight at the Rye House Kart Circuit in Hoddesdon, Hertfordshire. To help pay for his karting events and to be with him on race days his father, Anthony, worked up to 3 jobs as a contractor. He then set up his own IT company and acted as Lewis's manager in Formula 1 from 2007 until 2010. He was influenced by the racing style of Ayrton Senna.
Hamilton has raced with the Renault, Mclaren and Mercedes teams since he joined Formula 1. His team partners have been Fernando Alonso and Jenson Button at Mclaren and Nico Rosberg and Valteri Bottas at Mercedes.